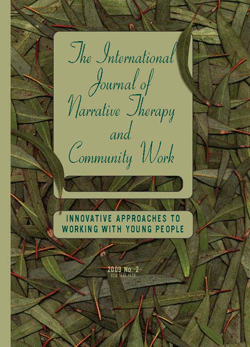 We recommend this on-line internationally peer-reviewed journal to practitioners who wish to stay in touch with the latest ideas and developments in narrative practice. This journal offers hopeful and creative ideas for counsellors, social workers, teachers, nurses, psychologists, and community workers. In each issue, practitioners from a range of different countries discuss the ideas and practices that are inspiring them in their work, the dilemmas they are grappling with, and the issues most dear to their hearts. Their writings are easy-to-read while remaining rigorous and thoughtful. The first section of each issue revolves around a particular theme, while the second consists of a collection of practice-based papers on various topics. The journal is produced four times a year. It costs only AUD$39 to subscribe for the year!
Wanting to read challenging and hopeful writings?

Looking for new ideas in your counselling practice?

Feeling isolated or burnt out?

Inspired by your work and looking to constantly improve your skills?

Looking for international links and training opportunities?
Then this may be the journal for you!
The Journal's International Advisory group consists of members from Mexico, Hong Kong, Australia, New Zealand, South Africa, Norway, Ireland, Denmark, Austria, Israel, UK, and USA. They include Harjeet Badwall, Norma Akamatsu, Makungu Akinyela, Elsa Almaas, Chris Beels, Esben Esther Pirelli Benestad, America Bracho, Susanna Chamberlain, Gene Combs, Saviona Cramer, Vicki Dickerson, David Epston, Jill Freedman, Yael Gershoni, Kenneth V. Hardy, Rachel Hare-Mustin, Ann Hartman, Mark Hayward, Alan Jenkins, Maxine Joy, Zoy Kazan, Dirk Kotzé, Rudi Kronbichler, Joan Laird, Tracey Laszloffy, Bill Lax, Dean Lobovits, Geir Lundby, Stephen Madigan, Elspeth McAdam, Vanessa McAdams-Mahmoud, Imelda McCarthy, Jonathan Morgan, Margaret Newmark, Marilyn O'Neill, Amaryll Perlesz, Loretta Perry, Amanda Redstone, Colin Riess, Shona Russell, Yvonne Sliep, Jane Speedy, Gaye Stockell, Taimalie Kiwi Tamasese, Angela Tsun, Charles Waldegrave, Kaethe Weingarten, Barbara Wingard, John Winslade, and Jeff Zimmerman.
To subscribe, become a member of Dulwich Centre.
Existing members: if you are already a member, log in here.
Click to contact us.