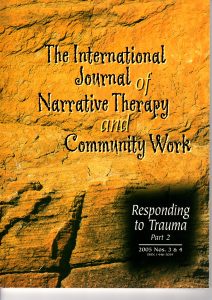 Dear Readers,
Welcome to another issue of The International Journal of Narrative Therapy and Community Work.
This is a special edition combining both issue 3 and 4 to round out the year. This combined edition  brings you part two of the theme Responding to Trauma.
We begin this issue with Wendy West and some early impressions in the aftermath of Hurricane Katrina. The issue also contains a large section of writings and interviews describing the work of the Treatment and Rehabilitation Centre for Victims of Torture (TRC) which is based in Ramallah, Palestine.
In addition, this issue contains diverse contributions from Michael White, Kaethe Weingarten, Michael Ungar, Ruth Pluznick, David Denborough, Shona Russell and many others.
Warm regards,
The Dulwich Centre
---
Showing all 15 results
Some Early Impressions in the Aftermath of Hurricane Katrina— Wendy R.West

$

5.50

This short piece describes the initial experiences of a therapist involved in relief work in relation to Hurricane Katrina in the USA.

Children, Trauma and Subordinate Storyline Development— Michael White

$

9.90

In this paper, Michael White emphasises the importance of subordinate storyline development in consultations with children who have been subject to trauma. This subordinate storyline development provides an alternative territory of identity for children to stand in as they begin to give voice to their experiences of trauma. This affords children a significant degree of immunity from the potential for retraumatisation in response to therapeutic initiatives to assist them to speak of their experiences of trauma and its consequences. This paper includes illustrations of the implications of these ideas for consultations with children who have been subject to trauma.

Reflections on Australia's Response to Asylum Seekers: A Diary from Six Weeks as a Counsellor within Curtin Detention Centre— Jeanette Gibson

$

5.50

Jeanette Gibson is a counsellor who for many years worked within a men's prison in Victoria, Australia. The same private company which runs this prison administered the Curtin Detention Centre in the northwest of Western Australia. Within this centre, people who arrived in Australia seeking asylum were incarcerated for months and sometimes years while the Australian immigration department investigated their claims and decided whether or not to grant them refugee status. Jeanette took a six week assignment as a counsellor within Curtin Detention Centre. This paper consists of extracts from the diary that she kept during this time.

The Sunflower: On the Possibilities and Limits of Forgiveness— Book Review by Ruth Pluznick

$

5.50

Editor's note: We approached Ruth Pluznick to write a review of Simon Weisenthal's book, 'The Sunflower: On the possibilities and limits of forgiveness' because we believe its subject matter directly relates to the issue of responding to trauma. Responses to trauma do not only involve questions of healing, but also questions of justice. Both the content and style of this book seem highly relevant to our field and Ruth makes some of these links at the end of her review. While Ruth was writing this piece, Simon Wiesenthal died at the age of 96. It seems all the more appropriate to include this review of his book in these pages.

A Framework for Receiving and Documenting Testimonies of Trauma— David Denborough

$

9.90

This paper seeks to provide a framework for receiving and documenting the testimonies of those who have been subjected to trauma, violence and abuse. It is a framework designed to make it possible to receive and document testimonies in ways that are not re-traumatising and that, in fact, contribute to redressing the effects of trauma in a person's life. The testimonies that are created can then be used for broader purposes.

Responding to Trauma and Grief – Family Gathering, Text and Spiritual Practice— Yishai Shalif

$

5.50

This paper describes ways of working with religious Jewish families who have experienced the traumatic deaths of loved ones. The author, an orthodox Jewish psychologist, relates stories of work with religious families and the ways in which family gatherings, religious texts and spiritual practices have been a part of the healing process.

The Values of This Work: Supporting Workers' Experience at the Acid Survivors Foundation— Shona Russell, Monira Rahman, Margaret Ryan & the workers of the Acid Survivors Foundation

$

5.50

This paper describes a meeting of workers that recently took place at the Acid Survivors Foundation, in Dhaka, Bangladesh. This meeting was structured according to narrative ideas in order to explore ways of dealing with the psychological consequences of working with survivors of acid violence; to provide staff with an opportunity to speak about what is important for them in their work; to explore ways in which staff are already responding to the impact of the work on them; and to consider some new possibilities. A document is included outlining the skills, knowledge, experience and values of workers at the Acid Survivors Foundation.

Collection: When the Trauma is not Past or 'Post': Palestinian Perspective on Responding to Trauma and Torture

$

15.00

The following writings and interviews describe the work of the Treatment and Rehabilitation Centre for Victims of Torture (TRC) which is based in Ramallah, in the occupied Palestinian Territories. This organisation was founded by Dr Mahmud Sehwail eight years ago and provides counselling, psychological and psychiatric services to the Palestinian community.

Articles in this collection include:

Responding to Continuing Traumatic Events— Dr Mahmud Sehwail

Dr Mahmud Sehwail is the founder and Director of the Treatment and Rehabilitation Centre for Victims of Torture (TRC). This paper explains how the TRC came into existence and how this organisation responds to those who have experienced trauma as well as aiming to prevent further abuse and violence.

A Human Rights Approach to Psychotherapy— Khader Rasras

This interview explores what it means to develop a human rights approach to psychotherapy and how these principles affect therapeutic work. It also considers ways of reaching out to survivors of trauma. Khader Rasras is the head psychologist at the TRC. The interviewer was David Denborough.

Glimpses of Therapeutic Conversations: Engaging with Narrative Ideas— Bilal Hassounh, Iman Ja'ouni, Deema Al Tibi, Amani Al-Jamal, Maryam Burqan, Wisam Abdallah

This paper consists of a collection of short stories of therapeutic practice from Palestinian counsellors and psychologists at the Treatment and Rehabilitation Centre for Victims of Torture (TRC). The stories particularly focus on the ways in which they have been engaging with narrative ideas in their practice.

Public Speech: Bringing People Together— Faiseh Muhtaseb

A further aspect of the work of the TRC involves hosting public meetings in villages and towns around mental health issues. In this paper, Faiseh Muhtaseb describes the thinking behind this work.

The Media as an Avenue for Therapeutic and Community Work̛— Hasan Salim

Alongside the public meetings that are organised by the TRC, their media liaison officer, Hasan Salim, uses newspapers, the radio and television as mediums for further therapeutic and community work. This paper describes this work and the thinking that informs it. The interviewer was David Denborough.

Trauma, Meaning, Witnessing & Action— David Denborough

$

5.50

Kaethe Weingarten's most recent book is entitled Common Shock: Witnessing Violence Every Day – how we are harmed, how we can heal (Dutton 2003). This book focuses on what happens when people witness violence and violation, ways of understanding this experience, and options for responding. The following interview explores a number of themes from the book. The interviewer was David Denborough.

Mungalli Falls Indigenous Women's Healing Camp— Greta Galloway and Robyn Moylan

$

9.90

This paper provides a sparkling example of a community gathering, shaped by narrative ideas, designed to respond to the experiences of Indigenous Australian women. The paper describes a women's healing camp that was held for Indigenous women in Cairns, Queensland, Australia. It provides a detailed account of the narrative and other processes engaged with at the camp, and provides participants' evaluation and recollections of this event one year later.

A Thicker Description of Resilience— Michael Ungar

$

9.90

What happens when we stop using pathologising language and hear the stories of resilience that young people tell? This paper offers a more contextually sensitive understanding of resilience, one that thickly describes resilience as more than just a youth's capacity to survive and thrive. It is a shallow description of resilience to attribute success to something inside an individual alone. It also is a dangerous description that makes us as helpers overlook the sources of resilience and how best to intervene. The author's purpose is to weave a rich tapestry of ideas that can honour lives lived well despite adversity.

Speaking the Unspeakable: Bearing Witness to the Stories of Political Violence, War and Terror— Pennie Blackburn

$

9.90

A paper such as this cannot do justice to the multi-storied nature of work with refugee people. I have chosen to focus on aspects of the work which relate to 'speaking the unspeakable'. In doing so I shall be looking at ways in which, as therapists, we can bear witness to the stories that people bring with them when they are forced to migrate. I will look at the way in which we (the people I work with and I) try to find ways to give voice to their experiences that are restorative and that contribute to their capacity to re-claim or to claim identity.

Language, Power and Intentions: Some Ideas of Working with People whose Lives are Affected by Substance Use— Michelle Cherubin

$

9.90

In this paper the author shares stories from her work with people whose lives are affected by substance use. At the same time, this paper tries to make clear the kinds of ideas that inform the therapist's thinking and the processes she goes through when deciding which conversational directions to explore. Key themes include: the use of language in therapy; considerations of modern power; responding to concerns about harm and considerations of protection; richly storying the web of relationships a person has to alcohol and drugs; and therapist intentions in this work.