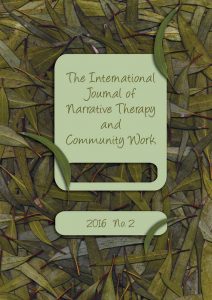 Want to stay in touch with the latest ideas and developments in narrative practice? This
journal
offers hopeful and creative ideas for counsellors, social workers, teachers, nurses, psychologists, and community workers. In each issue, practitioners from a range of different countries discuss the ideas and practices that are inspiring them in their work, the dilemmas they are grappling with, and the issues most dear to their hearts. Their writings are easy-to-read while remaining rigorous and thoughtful. The first section of each issue revolves around a particular theme, while the second consists of a collection of practice-based papers on various topics.
The journal
is produced four times a year. It costs only AUD$49 to subscribe for the year. And this subscription also enables you access to the 'Reading Room' which includes all previous issues of the
journal
!
---
> > > Click HERE to visit the journal archive and see all papers ever published
---
Indexing in databases
The International Journal of Narrative Therapy and Community Work is indexed in the following academic databases: EBSCO: SocINDEX with full text Sociology Source Ultimate Biography Reference Center ProQuest Central Informit: Families and Society Collection; Health Collection
About indexing (information for authors)
After all your hard work, you will want to ensure your published ideas reach a wide and interested audience. Alongside our extensive subscription readership, made up of individuals and organisations with an ongoing interest in the field of narrative practice, the journal is indexed in a number of online academic databases. These databases are subscribed to by universities and other professional and research institutions internationally, meaning the journal's content is accessible to practitioners, researchers, academics and other interested parties through library searches. Whether searching for a particular article or author, or more broadly around a topic or theme using keywords, articles are thus not only highly discoverable, but also have potential to attract interest from otherwise unanticipated audiences. Academic databases have rigorous independent inclusion criteria, so being indexed in them is often considered an indicator of journal reliability, providing reassurance that the journal is respected within its field. Whether you are citing articles from the journal to support the credibility of your research, reports or proposals, or are an author whose article is being published, the International Journal of Narrative Therapy and Community Work is accessible to a diverse and multi-disciplinary readership.