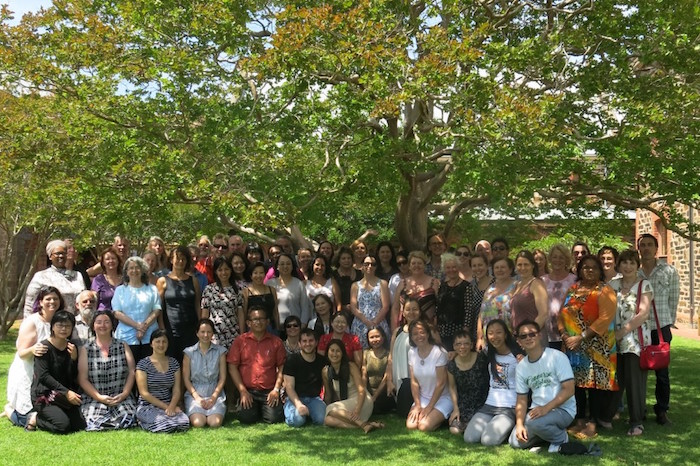 ** We are now contemplating an ONLINE version of the Masters for 2021. **
This would be in addition to the usual version which has two face-to-face teaching blocks in Adelaide
We are contemplating this because in March 2020, due to the pandemic, the planned face-to-face teaching block of the Masters had to be transformed into an online adventure. New pedagogies were developed, Dulwich Centre was transformed into a film studio and Tileah Drahm-Butler and her family created a morale boosting Dance Academy. Because this predicament was turned into a positive (see this article on the University of Melbourne website), and because of the circumstances of the pandemic, we are now considering a one-off online version of the Masters in 2021. Because it is a practice-based Masters, we will need to develop some creative pedagogies, including ensuring each participant has a practice-partner in their local context, and/or face-to-face hubs in different cities (outside Australia) where a number of people from one country could come together to learn together without having to come to Australia. If you are based outside of Australia and would be interested in undertaking this Masters at the University of Melbourne/Dulwich Centre in 2021 without having to travel to Adelaide to do so, can you please let us know? If there is enough interest we will start making plans. Thanks!
The Master of Narrative Therapy and Community Work is a collaboration between Dulwich Centre and University of Melbourne (Department of Social Work).
We are very excited about what this program is meaning for narrative ideas. It's a practice-based program, with a wide-range of national and international teachers. It's also been specifically designed to spark continual innovation in the field. Participants have graduated from Singapore, Canada, Australia, Japan, Spain, Hong Kong, Israel, China, Rwanda, Tanzania, Ireland, Chile, South Africa, Denmark, Qatar, Turkey, Mexico, India, New Zealand and the UK and their innovative work is stretching the field.
We have included below some formal information about the program.
Flyer
Click here to read the flyer about this program
Commonly Asked Questions

Please read our Answers to Commonly Asked Questions about the Master in Narrative Therapy and Community Work.
Background
The Master of Narrative Therapy and Community Work provides formal training and recognition for narrative therapy and is delivered as a joint initiative of The University of Melbourne (Department of Social Work) and Dulwich Centre, Adelaide. The University of Melbourne is one Australia's leading universities.
Course Overview and Structure
The Master of Narrative Therapy and Community Work has been specifically designed to develop participants' practice-skills, encourage innovation, and enable a rigour in relation to practice-research-theory. It is a University of Melbourne postgraduate specialist qualification consisting of 3 subjects:
Advanced Narrative Skills Development
The Art of Narrative Practice
Narrative Practice and Research Synthesis
The program is delivered through a combination of two face-to-face intensive two-week teaching blocks at the Dulwich Centre (Adelaide) and an on-line program of work. Hence, it is accessible to both local and international students. The teaching blocks usually take place in March and October/November.
The program provides participants with the flexibility to complete the degree either full-time and over two semesters as a twelve month program, or part-time and over four semesters as a two-year program.
Academic Team
The academic team will consist of leading national and international trainers. The faculty will be drawn from the Dulwich Centre International faculty and the University of Melbourne.
Who Should Attend
Those applying to undertake the degree would typically be professionals working with individuals, families or communities who are interested in enhancing their clinical and practice-research skills in narrative therapy and community work. The combination of intensive delivery supported by distance and on-line learning means it is accessible to students across Australia and internationally.
Entry Requirements
An undergraduate degree in a related discipline; and
Evidence of two years of relevant work experience; and
Evidence of completion of prior narrative therapy studies at Dulwich Centre or equivalent; and
Statement of up to 500 words by the Applicant; and
A professional referee report
Please note, it is necessary to be working/volunteering in a context in which you are able to put narrative ideas into practice for at least 5 hours per week during the duration of the Masters.
Interviews, referee reports or employer references may also be a part of the application process.
Recognition of Prior Learning for those who have completed long-term training programs with Dulwich Centre (International Training Program or Graduate Certificate programs in Hong Kong, Greece or Singapore) means that they are only required to attend one of the intensive teaching blocks in Australia, and to pay reduced fees. This is also true for graduates of the Yearlong Narrative Therapy Program at Evanston Family Therapy Center (USA).
Valedictory Address class of 2016
Wondering if you can do the Masters?
If you are wondering whether you could do the Masters, we thought you might like to watch this video that was made by past participants. Some of these folks had to overcome significant obstacles to apply, attend and graduate … but they made it! Here is what they wanted to share with others about this:
Subjects
1. Advanced Narrative Skills Development
In this subject, students acquire skills in engaging with ten key practice maps of narrative therapy, including externalising, re-authoring, re-membering, definitional ceremony, documentation, absent but implicit, failure conversations map, responding to trauma, engagement with folk culture metaphors (tree of life/team of life/kite of life) and enabling contribution or social action. They also develop skills in analysing and evaluating the effects of their use of these maps of practice and in proposing alternative questions as well as lines of enquiry, in therapeutic and/or collective practice.
2. The Art of Narrative Practice

Students acquire a working knowledge of the diversity of ways in which narrative practices are being engaged with children, young people and adults as well as with individuals, groups, organisations and communities, in a range of different cultural contexts across the globe. Students are required to analyse developments in the field in relation to their implications for their own practice in their own local cultural context.
3. Narrative Practice and Research Synthesis
Students are challenged to innovate their own forms of narrative practice. Teaching focuses on some of the different methods of innovating that have contributed to new forms of narrative practice, such as co-research, partnerships, cross-cultural invention, folk cultural innovation, synthesis of practice with readings from outside the field, responding to challenges in relation to politics of experience and translations across languages. This involves revisiting some of the social and intellectual histories of narrative practice and drawing on recent international innovations as case studies of innovation. Drawing on these histories and practices of innovation, in the second half of the subject, students are then required to undertake an original piece of practice research, with findings presented in a standard required for publication.
Fees

Fees for 2020 are AUD$21,568 for all students and are subject to an annual increase. Fees include tuition, course materials and access to on-line resources and the opportunity to attend a public graduation ceremony. As enrolled students of the University of Melbourne, students have access to a range of facilities and amenities provided by the University of Melbourne.
FEE-HELP
FEE-HELP provides interest-free loans to eligible students to help pay part or all of their tuition. FEE-HELP is only available to Australian citizens. For more information click here.
Scholarships
Anita Morawetz Scholarships
Thanks to the generosity of the Anita Morawetz Trust, a number of scholarships covering part of the tuition fee for this course are available.
Adelaide-Hong Kong Friendship Scholarship
Dulwich Centre is delighted to announce this new scholarship which is available to practitioners from Hong Kong who wish to attend the Master of Narrative Therapy and Community Work (University of Melbourne/Dulwich Centre). There is a long history of collaboration between Dulwich Centre and narrative practitioners in Hong Kong, in fact, more practitioners from Hong Kong have completed the Dulwich Centre International training program than from any other city or country! The Centre for Youth Research and Practice (Hong Kong Baptist University) and Dulwich Centre currently run a Graduate Certificate in narrative therapy. Graduates of this course receive recognition of prior learning towards the new Master of Narrative Therapy and Community Work.
If you are from Hong Kong you are eligible to apply for the Adelaide – Hong Kong Friendship Scholarship. This scholarship will cover a return airfare for the student to fly from Hong Kong to Adelaide in order to attend one of the two week teaching blocks of the Master's program (or it is sometimes distributed between multiple students from Hong Kong, in which case the amount per person is reduced).
The scholarship will be awarded to a practitioner(s) from Hong Kong who is judged by the scholarship committee to have:
• demonstrated an interest and commitment to narrative practice
• demonstrated a commitment to working with people experiencing social hardship
• demonstrated creativity and innovation in their work
The decision of the scholarship committee will be final and no correspondence will be entered into.
To express your interest in applying to this scholarship, please email us.
Recognised training by Australian Counselling Association

This Masters program has been accredited by the Australian Counselling Association (ACA)! For more information about what this means for graduates of the Masters, see the ACA website.
Applying for the Masters

If you are interested in the 2021 Masters, please contact us
When applications open you will apply here.
** We are now contemplating an ONLINE version of the Masters for 2021. If you are interested please contact us. This would be an additional option to the version of the Masters which consists of 2 x 2 week face-to-face teaching blocks in Adelaide **
Encouragement from current Masters participants!
Thanks for your interest in this program. We are very excited about it!
Letting the faculty know your name and pronouns
If you are interested in notifying the faculty about a name change, this document may be helpful.