Tree of Life workshop: Responding to vulnerable children and young people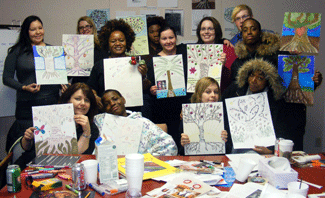 Participants in a Tree of Life workshop in CanadaThis workshop explores how to use the Tree of Life approach in working with vulnerable children or young people and their families/communities.
'The Tree of Life' is an approach developed by Ncazelo Ncube of REPSSI (Zimbabwe/South Africa) and David Denborough (Dulwich Centre Foundation). It is a way of working with vulnerable children that is fun and easy to use and yet at the same time enables children to speak about their lives in ways that make them stronger.
This approach, based on narrative therapy ways of working, has proved very popular, both within Australia, Southern Africa, and elsewhere. The approach is suitable for use in schools, private practice, hospitals, and community settings – anywhere in which people are working with groups of children. It has also been adapted for use with individual children, adults, and grandparents! This workshop will introduce participants to some of the key ideas that inform this novel approach and then enable everyone to walk through the process so that they are fully equipped to put it into practice in their own contexts.
Next workshop – The tree of life: Latest developments
DATE OF NEXT WORKSHOP YET TO BE ANNOUNCED
Find out more about the Tree of Life
To read more about the Tree of Life on this website, click here.
Read about the Tree of Life
For more information about the Tree of Life, see the book Collective narrative practice: Responding to individuals, groups, and communities who have experienced trauma.