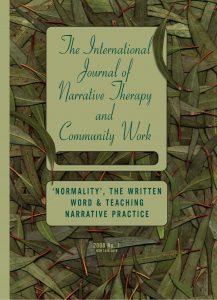 Dear Reader,
G'day.
Here in Adelaide we've just endured the longest heatwave in recorded history and are finally revelling in some cooler weather. Our recent International Summer School of Narrative Practice has been completed and we are starting to look towards the 9th International Narrative Therapy and Community Work Conference which is to be held here in November. We hope to see you here then.
We're also looking forward to this year's editions of this journal. Over the last few years there have been a number of special projects in the pipeline and these will be appearing in upcoming issues of this journal. This issue contains the culmination of one of these projects. We had received many requests for examples of 'teaching exercises' related to narrative practice. These requests came not only from teachers but also from practitioners who were wanting further ways of improving their skills and/or ways of exploring narrative practices with colleagues. In this issue we have included exercises from Russia, USA, Australia and Canada.
The journal begins however on a different topic: 'Normality?' The lead paper, by Jane Hutton and Kate Knapp is a delightful exploration of how conversations about normality and failure can lead in unexpected directions. The paper also describes a partnership between a therapist and visual artist. Over coming months we hope to be able to feature other creative examples between therapists, community workers and arts and cultural workers. The possibilities for collaboration seem endless.
The second section of this journal issue features two papers on the use of the written word in therapeutic consultations. Many Pentecost, from New Zealand, describes four different genres of writing used within counselling. The article itself is written in the form of the letter to the person consulting her. The paper following, by Adam Hahs, describes the use of greeting cards as therapeutic documents.
The journal is completed by the announcement of an exciting new project: 'the found in translation project'. If you work in languages other than English or in bi-lingual or multicultural contexts you may be interested in participating in what promises to be a lively and generative international conversation. It has been initiated by Daria Kutuzova and Natalia Savelieva, from Russia, and Marcela Polanco, who is originally from Colombia and now living in the USA.
We'd also like to remind readers that we are currently interested in hearing from narrative practitioners about:
• stories of therapeutic or community or organisational practice that relate to environmental concerns;
• helpful tips, practices, principles and ideas that you are finding helpful in their work with couples;
• ways in which you may be using new technologies (email, facebook, myspace, skype, websites) in your work;
• ways in which you may be researching the effects and effectiveness of your work and/or your organisation's work; and
• how narrative practices can be used by therapists in conversations about sexual practices, sexual difficulties and sexual pleasure.
We look forward to hearing from you! As always, we'd also welcome your feedback on any of the papers in this journal issue.
Warm regards,
Cheryl White
---