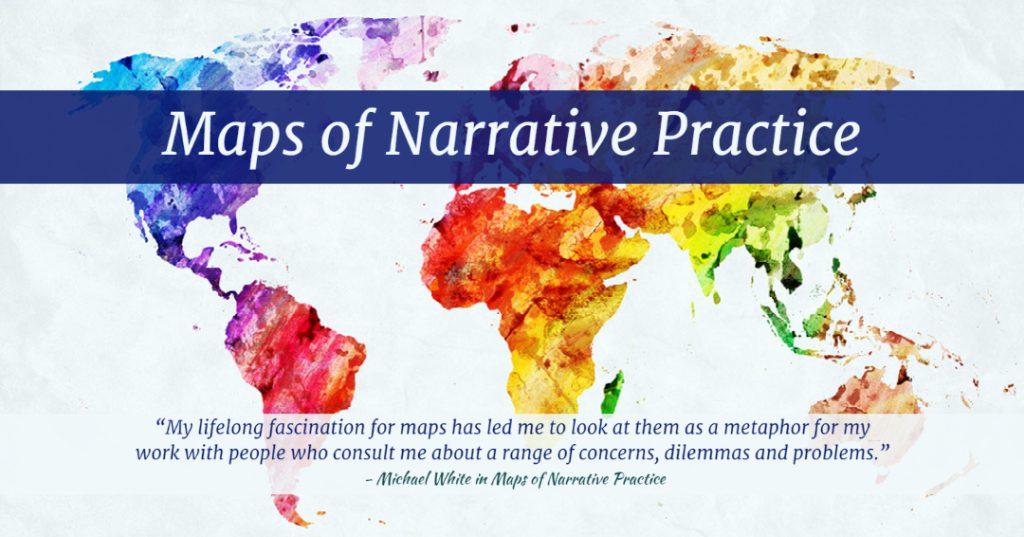 Course Host, Mark Hayward
Mark Hayward studied with Michael White in Adelaide, completed the first pre-Master's International Course and attended many of his workshops around Europe running the conference bookstall. He's worked as a Family Therapist in the UK for 30 years and has taught for Dulwich Centre and other Narrative Therapy organisations in four continents. His preferred approach to these maps is both rigorous and irreverent, recognising that "map" is a metaphor that people can relate to in different ways.
Maps of Narrative Practice
This course focuses on the skills you can learn from maps of narrative practice. A 'map' of narrative practice is a structured guide through steps or questions to support a narrative conversation. These maps are not rigid rules for practice, but using the maps can support you in developing and deepening your narrative practice skills.
This course is best approached with a copy of Maps of Narrative Practice (2007, W.W. Norton) by Michael White to hand. This book provides much background and explanatory information, examples of the maps in transcripts and comments by Michael White on the use and options for using these maps to move conversations into new territories. There is much in the book that extends on what's in the videos and there are also ideas in the videos not described in the book. This is primarily because Michael's teaching would often feature ideas that he didn't get to publication but that still use the map metaphor.
Michael White used to say that some metaphors were to be preferred to others. He cautioned against those popular metaphors coming from the fields of biology, mechanics, IT etc. as they can encourage people to construct a person's psychology as a biological body, or an engine, or a computer, which could mislead and limit thinking. Instead he encouraged geographical metaphors of land, topography and territories.  Thus, maps, as well as being of personal interest to him, were safer, more reflective of human processes and more evocative of the possibilities of travel in relation to steps taken and relational developments.
There is one map in the videos that doesn't feature in the book –The Actions to Identity Map – and one map in the book that's not in the videos – The Scaffolding Distance Map. The Scaffolding Distance Map is beyond the scope of this introductory course as it's A Map of Maps, a mega-map if you like, as all the other maps can be located and connected up within this map. At the end of this course you may wish to read Chapter 6 in your book for an introduction to this map.
Most narrative maps have four steps or question areas and a recommended sequence for asking them. Adhering to this sequence generally helps scaffold people's knowledge but, as with all the maps, following the interviewee's curiosity, values, theories etc. should take priority over a rigid adherence to the recommended ordering of question areas. Most good conversations seem to feature a weaving of question areas to better elicit rich descriptions, so a linear trajectory up a map might make for the simplest conversation but not necessarily the most helpful. I always feel better if I've gone up and down a bit!
Michael White writes (Maps of Narrative Practice, 2007, P5) "The maps that I review in this book are, like any maps, constructions that can be referred to for guidance on our journeys – in this case on our journeys with the people who consult us about the problems and predicaments of their lives."
A general aim with these maps is to help the interviewees become more knowledged about their own lives. Or, as Michael White would say, "Moving from the known and familiar to what's possible to now". Frequently this helps them identify future steps they might make in now-established directions that can address the predicaments they face. These steps are no longer steps into the unknown or random or arbitrary steps but follow their histories and values in relation to stories of their lives and can provide guidance for what to do next.
For each map there is a structured exercise for pairs with suggested questions that gives you an experience of the map from both positions. You will need a partner for these exercises, but this person does not need to be a narrative practitioner. It is okay to be learning together! There are five of these exercises to help you practice using the maps and acquiring a habit of these ways of questioning. In pairs and with each person having a go at each role, practice the map. 
The last exercise (Outsider Witness Group) will need more participants – one person to be interviewed, one person to do the interviewing, and two people to be the outsider witnesses.
Unless you're pretty confident that you can design questions yourself that fit with each level of each map, I would stick to the suggested questions or small variations on them.
If you're wanting a certificate of completion of this course you'll need to submit a transcript of an interview together with a commentary on what was happening and how you were thinking, and a critique with ideas on what your learnings were, what you might do differently next time and questions that arise for you from this work. Aim for about 300 words for the transcript and then about 700 for the commentary and critique, for an essay that is about 1000 words long. The interview can be with a community member or with a friend, just as long as it is a demonstration of how you are applying these maps of narrative practice. Please make sure to change names to ensure interviewees are not identifiable and to include any feedback about the interview from those you interviewed. An audio or video recording of the same portion of the interview would be great but isn't a requirement.
Certification costs $77 AUD.  To take the certification module click here.