Now that we've created a team sheet, it's possible to think about a goal/achievement that this team has already scored.
It doesn't have to be a large goal …
Making new friends
My family staying together – between home and hospital!
Getting my driver's license!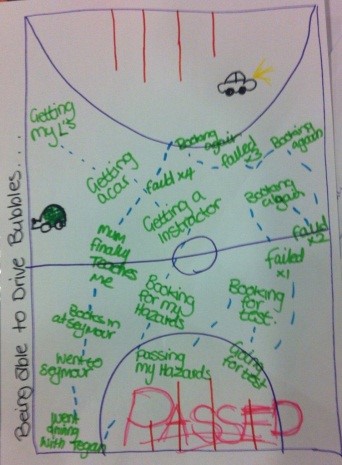 Or sometimes the goals our teams have scored are bigger …
Going to France thanks to the Make a Wish Foundation!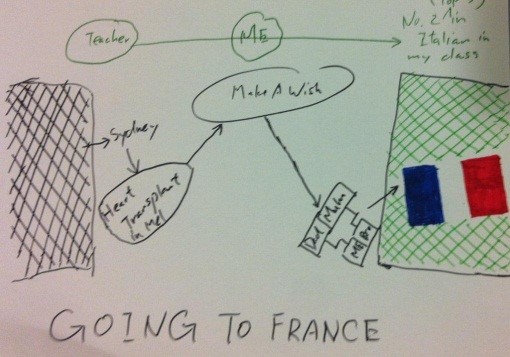 Coming to Australia to seek safety
Young people at the Royal Children Hospital (RCH) Melbourne have identified a range of different goals and accomplishments:
Getting used to giving myself needles
Getting back to school
Going home to Groote Eylandt
Getting a job
Changing some really bad habits and getting back into life
Waking up some days
Deciding what to wear!
Getting back to playing football
Moving out of home
Making a new 'home' in Melbourne
Going to university
Going travelling to Boston, USA!
Studying multimedia
Getting my driving license
Staying together as a family (while moving between Swan Hill and Melbourne)
Getting an A+ in my major media production
Starting to make a short film
Coming second in Italian class
Going to France!
Going to a music festival
Going to Europe for 5 weeks and walking up a massive volcano (even though I went blue at the top!)
Flying on the plane to get here (even though it freaks me out physically as well as emotionally!)
Facing our biggest fears: These have been different for all of us. But we agreed that, whatever the fears are, facing them and not letting them get in the way, is the goal we feel most proud of!
Create your own goal map

Think of a goal / achievement that has already been scored by your team. Draw a goal map that indicates the different contributions that people made to the achievement of this goal:
Can you describe who was involved in the scoring / attaining of this goal?
Was it a solo effort? Or did other members of your team of life help out? How?
Did your coach encourage you or help you with tactics?
What parts did everyone play in this: homeground, defense, attack, teammates etc.
What skills or knowledge or values did you or others use in the scoring of this goal?
Where did these skills/knowledge/values come from?
What training did you and others do to make it possible to score this goal?
How often did you do this – each day, once a week? Where did you train? How did you learn how to do this training? Did anyone show you?
Draw a scoreboard on one corner of the document and mark up this goal!