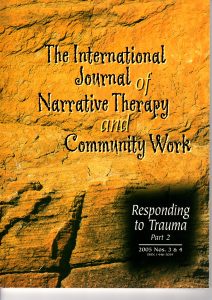 Dear Readers,
Welcome to another issue of The International Journal of Narrative Therapy and Community Work.
This is a special edition combining both issue 3 and 4 to round out the year. This combined edition  brings you part two of the theme Responding to Trauma.
We begin this issue with Wendy West and some early impressions in the aftermath of Hurricane Katrina. The issue also contains a large section of writings and interviews describing the work of the Treatment and Rehabilitation Centre for Victims of Torture (TRC) which is based in Ramallah, Palestine.
In addition, this issue contains diverse contributions from Michael White, Kaethe Weingarten, Michael Ungar, Ruth Pluznick, David Denborough, Shona Russell and many others.
Warm regards,
The Dulwich Centre
---