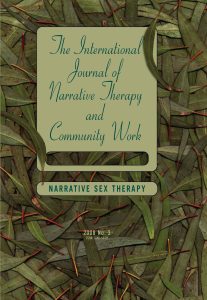 Dear Reader,
Spring has arrived in Australia and we're pleased to be able to bring you this issue of the International Journal of Narrative Therapy and Community Work.
It features what we think will be an influential paper by Yael Gershoni, Saviona Cramer and Tali Gogol-Ostrowsky entitled: 'Addressing sex in narrative therapy: Talking with heterosexual couples about sex, bodies, and relationships'. The topic of sex therapy has been sorely neglected within the field of narrative practice and we suspect that this paper will spark considerable interest in creative, respectful and effective forms of narrative sex therapy. In future issues we wish to publish further papers on this topic. So, if you have therapeutic conversations about sex we would be very interested to hear your feedback on the paper by Yael, Saviona and Tali. We'd also be interested in receiving papers or reflections about the ways you use narrative ideas in talking about sex. Thanks!
The first section of this journal issue also includes a paper titled: Using the 'failure conversations map' with couples experiencing fertility problems. We hope this will be helpful to practitioners who are working in this realm.
The second section of the journal focuses on a key aspect of narrative practice: an ethic of circulation. This relates to ways in which therapists and community workers can document and circulate the skills and knowledges that people are using to address difficulties in their lives. Three papers are included here. The first, by David Newman, introduces the concept of 'living narrative documents'. The second, by Ross Hernandez, shares ideas about ways of using voice recordings to facilitate 'long-distance' definitional ceremonies. And the third, by Sarah Lunn, describes work with children who are living with Sickle Cell Disease.
The third section of the journal includes two thoughtful papers which explore how research can influence practice. One of these relates to the meanings of sexualised coercion and gender in psychosocial group sessions for women. The other undertakes conversational analysis of externalising conversations.
As you can tell, this is a diverse journal issue! It includes papers from Canada, Israel, Australia, Denmark and England. There are so many interesting developments in narrative practice at this time. As always, we'd like to acknowledge both the authors and the readers/subscribers of the International Journal of Narrative Therapy and Community Work.
Warm regards,
Cheryl White
---
In talking with couples about sex, it is often assumed that storylines about sex also involve storylines about relationships and bodies. In our couple therapy work, however, we have found it significant to disentangle these storylines. By exploring separate storylines of relationship/intimacy, body image and sex, many new possibilities for narrative sex therapy with couples have emerged. This paper outlines these possibilities through sharing one example of narrative sex therapy with a heterosexual couple.

This paper details work done with a heterosexual couple who were experiencing fertility problems. Drawing on the externalising conversations and failure conversations maps of narrative practice, the author worked with the couple to explore culturally-dominant norms around pregnancy and fertility, resulting in renewed options for parenthood. The paper discusses aspects of Michel Foucault's notion of modern power in relation to normalising judgement, and details how the failure conversations map offers a response to this.

This article explores some creative ideas about using therapeutic documents in narrative practice. After a discussion of the theoretical background, important principles, and ethical issues in employing documents, the author gives examples of emails used to recruit a 'care team', and keeping care teams informed of developments in people's lives. The main part of the paper explores the idea of 'living documents': therapeutic documents that are added to by various clients over time. This new departure in therapeutic documents is different from the existing practices of 'archives' held by various leagues – which tend to simply be collections of different individual's documents; and of collective documents, which are usually produced by a group in a collective voice.

This paper describes the author's attempts to employ the definitional ceremony map of narrative therapy in contexts where outsider witnesses cannot be physically present. This was achieved through the use of a voice recorder, with the various stages of tellings and re-tellings being recorded and played for the outsider witnesses and clients, bringing about a 'long-distance' definitional ceremony which spans a gap in time and space.

This paper describes how the narrative practice of 'spreading the news' was used with a group of children with Sickle Cell Disease and their families. A 'day out' was organised for all who attended a hospital paediatric clinic for Sickle Cell Disease. This day provided the opportunity for all to share and celebrate their unique knowledges and successes in living well alongside the disease. The narrative steps taken to enable this project are documented as the author describes her experiences and learnings from this day.

The view that participating in psychosocial support groups can be helpful to women exposed to gendered violence such as rape and attempted rape, has much support. Drawing on a 'subject theory' approach and an empirical project, this article discusses some aspects of group practices. Which aspects of participation in groups may be helpful and which problematic? And what may we learn from working with groups? The discussion takes in such general questions as the position of professional counsellors and other participants, pathologisation, and the possible transfer of experience from one context to another, as well as more specific aspects of the meanings of victimisation, gender, sexualised coercion, and group participation.

This paper examines the narrative therapy practice of asking and answering externalisation questions. It looks at some of theoretical and clinical literature related to the use of these questions and then turns a micro-dynamic look at some examples of how such questions were asked and answered in the course of therapeutic dialogue. The focus is on learning from these analyses to enhance therapists' ability to engage clients in collaborative and resourceful externalising conversations.