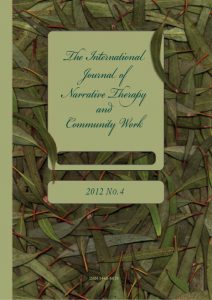 G'day and welcome to the final issue of the journal for 2012, and a special issue it is. It begins with a long awaited paper by Jill Freedman exploring the absent but implicit. This paper clarifies and extends key aspects of this significant narrative practice and shares a number of practice examples. We'll be publishing further explorations on the absent but implicit in the new year.
The second section features a paper by Mary Heath on critical thinking. This follows a number of workshops that Mary has offered to narrative practitioners and which have been described by participants as invaluable. We're delighted to include this paper here. These first two papers represent significant contributions to the extending the field of narrative therapy.
Part III then delves into practice, with a moving description of a legacy project that took place in a Californian high school. Tanya Pearlman and the young people with whom she was working have brought together writing practices and narrative therapy to create a legacy of their own. The second paper in this section conveys how Warren Whyte enabled young people in detention and young people trying to change their relationship to drug use to make contributions to each other in 'passing hope around'.
And finally, this year's journal issues, ends with an interview of Vikki Reynolds by Sekneh Hammoud-Beckett in relation to bridging the worlds of therapy and activism. It's also possible to watch a video on this site of a presentation that Vikki gave recently here at Dulwich Centre.
As this year draws to a close, I would like to thank you dear reader for your interest in narrative practices and for subscribing to our first year of the International Journal of Narrative Therapy and Community Work on-line. I'd also like to thank all the authors. As I look back on the papers published this year, I realise they came from Mexico, Colombia, Canada, China, USA, New Zealand, Kurdistan (Iraq), and Australia. Each year the field of narrative therapy and community work builds on what is a now a rich history, and forges new ground. Thanks for being a part of this community of practice.
---
Showing all 5 results
Explorations of the absent but implicit— Jill Freedman

$

9.90

The author describes her exploration of practices working with the absent but implicit, particularly in therapy with couples and families. She includes questions that may be helpful in naming the absent but implicit and describes how these conversations can support a context in which exploring discourses that support problems becomes especially relevant.

On Critical thinking— Mary Heath

$

9.90

This paper begins by defining critical thinking and setting out a personal history of the author's journey toward becoming a critical thinker. It considers two common barriers to critical thinking: cultural disapproval of critique; and confusing critical thinking with criticism. In response, it argues that rigorous thinking offers benefits—and not only risks— to cultures as well as individuals. It considers where cultural resources supportive of critique might be found. Further, it argues that critical analysis should be understood (and undertaken) as a process of collaborative support for rigorous thinking rather than as a form of hostile criticism. Some dimensions of critical thinking are outlined, together with questions which might allow readers to apply them to specific contexts. The paper closes with some reflections on the process of writing in which some of these dimensions of critical thinking are applied to the paper itself.

Passing hope around: Youth messaging strategies for becoming drug-free— Warren Whyte

$

9.90

Collective narrative practice facilitates geographically separated groups of people to share their experience and wisdom in standing up to common problems. This article documents a particular collective narrative practice between a group of youth in prison at Burnaby Youth Custody Services and a group of youth in treatment for substance misuse at Peak House in Vancouver, Canada. The purpose of outlining this exchange of solution knowledges is to highlight certain practical and theoretical aspects of collective practices that were effective for the youth, in order to continue the narrative discussion for future practitioners. By assuming the youth had healing knowledges, by providing them with a relevant audience, and by offering them the opportunity to make a meaningful contribution to others; this writer was able to facilitate young people in sharing their own solutions with each other in mutual encouragement against a common social issue. Exchanging collective narrative documents with other youth seemed to cultivate a sense of self-determination towards therapeutic work, a feeling of solidarity and belonging with similar strugglers, and a sense of hope and enthusiasm that change is indeed possible.

Bridging the worlds of therapy & activism: Intersections, tensions & affinities— Vikki Reynolds interviewed by Sekneh Hammoud-Beckett

$

5.50

In this brief interview Sekneh & Vikki reflect on the precarious but possible connections of social justice activism and therapy, particularly narrative therapy. They offer the usefulness of a socially just orientation to therapeutic work in terms of the sustainability of therapists, and as a resistance to burnout. They take a position for therapists to act as activists to work for socially just structural change. They suggest embracing activist traditions of solidarity and building 'solidarity teams' to shoulder us up collectively to resist the structures of injustice that are rooted in capitalist and neo-liberal politics which are the context of people's suffering and our work.