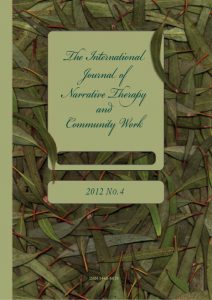 G'day and welcome to the final issue of the journal for 2012, and a special issue it is. It begins with a long awaited paper by Jill Freedman exploring the absent but implicit. This paper clarifies and extends key aspects of this significant narrative practice and shares a number of practice examples. We'll be publishing further explorations on the absent but implicit in the new year.
The second section features a paper by Mary Heath on critical thinking. This follows a number of workshops that Mary has offered to narrative practitioners and which have been described by participants as invaluable. We're delighted to include this paper here. These first two papers represent significant contributions to the extending the field of narrative therapy.
Part III then delves into practice, with a moving description of a legacy project that took place in a Californian high school. Tanya Pearlman and the young people with whom she was working have brought together writing practices and narrative therapy to create a legacy of their own. The second paper in this section conveys how Warren Whyte enabled young people in detention and young people trying to change their relationship to drug use to make contributions to each other in 'passing hope around'.
And finally, this year's journal issues, ends with an interview of Vikki Reynolds by Sekneh Hammoud-Beckett in relation to bridging the worlds of therapy and activism. It's also possible to watch a video on this site of a presentation that Vikki gave recently here at Dulwich Centre.
As this year draws to a close, I would like to thank you dear reader for your interest in narrative practices and for subscribing to our first year of the International Journal of Narrative Therapy and Community Work on-line. I'd also like to thank all the authors. As I look back on the papers published this year, I realise they came from Mexico, Colombia, Canada, China, USA, New Zealand, Kurdistan (Iraq), and Australia. Each year the field of narrative therapy and community work builds on what is a now a rich history, and forges new ground. Thanks for being a part of this community of practice.
---