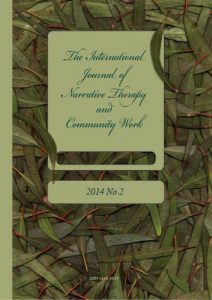 Welcome to this second journal issue for 2014.
The diverse pieces in this issue are from Canada, USA, New Zealand, Scotland, Palestine and Bostwana.
These include practice-based papers considering narrative responses to torture/trauma and brief narrative therapy approaches within walk-in clinics; and three interviews with researchers whose work, we believe, offers a great deal to narrative practitioners.
The field of narrative practice continues to diversify. David Epston's column in this journal has been created to invite practitioners to share examples of local practice innovations. Perhaps, after you have read them, you will be tempted to write your own contribution to this column. We hope so!
Warm regards,
Cheryl White
---
Showing all 6 results
Poetic resistance: Witnessing Bahman's resistance to torture and political violence— Vikki Reynolds, 'Bahman', Sekneh Hammoud-Beckett, Colin James Sanders & Gwen Haworth

$

9.90

This writing presents an orientation to work alongside survivors of torture and political violence centred in witnessing resistance and an activist informed ethical stance for decolonising and antioppression practice (Reynolds & polanco, 2012). This includes descriptions of what constitutes torture and political violence, and understandings of witnessing, and resistance as ever present and useful despite the fact that resistance is often not enough to stop oppression (Wade, 1997; Reynolds, 2010a).

This writing highlights Bahman, a survivor of torture from Iran, and illuminates his poetic resistance to torture, including poems that Bahman wrote during our therapeutic work together. I will provide enough context of the political situation and particular acts of violence and torture so that the acts of resistance in Bahman's poems are understandable, and make visible structures of safety (Richardson & Reynolds, 2014, in press) and accountability practices. Bahman's poems are interspersed throughout the text and following each of his poems there is a link to Gwen Haworth's film of the poem read by Bahman in Farsi and Colin James Sanders in English. Bahman then reflects on the experience of re-visiting his resistance, our therapeutic work together, and his poems through an interview with Colin.

Finally, Sekneh Hammoud-Beckett offers a reflection of this work from her location as a woman from a Muslim background and as a therapist with a commitment to creative resistance (2007).

Through a narrative lens: Honouring immigrant stories— Ann E. Kogen

$

9.90

This article describes how cultural understandings can be utilised in re-authoring stories of individuals suffering from hardships as a result of torture or trauma. Anthropological research about the varied ways in which people express and experience emotion opens possibilities for therapeutic practice. Through an example of therapy, the author illustrates how cultural idioms and understandings can be integrated into a narrative that is healing and empowering.

Brief narrative practice at the walk-in clinic: The rise of the counterstory— Scot Cooper

$

9.90

This paper describes the development of counterstories in brief narrative single session therapy. Counterstories, being a specific kind of story, involve the juxtaposition of counter plot to the problem plot and set out to rehabilitate a compromised identity. Although in the time constrained context of therapeutic walk-in clinic conversations counter stories are vulnerable to eclipse by the problem narrative there are ways to inoculate it and assist it to further thicken well after the initial face to face contact.

So many possibilities: Psychotherapy research and narrative therapy— An interview with John McLeod

$

5.50

In this interview, John McLeod invites and encouarges narrative therapists to engage more rigorously with counselling and psychotherapy research; acknowledge a distinctive narrative therapy research identity, and provides an overview of a range of research methodologies particularly relevant to narrative therapists.

Researching health, justice and the capacity to endure— The work of Rita Giacaman and the Institute of Community and Public Health Birzeit University

$

5.50

In this interview, Rita Giacaman, outlines an alternative approach to mental health research that relates to Foucault's (1976) call for an 'insurrection of subjugated knowledges' (p.81). Building on Palestinian experiences of social suffering, and honouring local idioms, the work of the Institute of Community and Public Health at Birzeit University, refuses to separate health from justice

Indigenous research is a journey— An interview with Bagele Chilisa

$

5.50

In this interview, Bagele Chilisa, introduces key themes relating to Indigenous research methodologies and the ways in which Indigenous scholars are transforming understandings of research and knowledge creation. Professor Chilisa also offers messages of support to both Indigenous and non-Indigenous scholars.