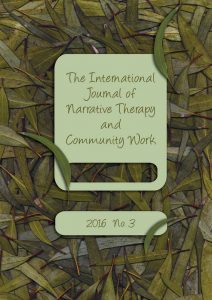 Dear Reader,
Welcome to this profoundly diverse collection of papers from Greece, Hong Kong, Australia, USA and Denmark.
These range:
— from practice based explorations about stories of the body … to narrative practice in the new media age
— from work within an Aboriginal community context in Australia … to explorations of Colombian magical realism
— from work with people  with an intellectual disability in Hong Kong … to creativity research in Denmark
— from considerations of contemplation and creative solitude … to narrative responses to dreams and spiritual experiences during times of grief.
Narrative practitioners continue to expand the boundaries of the field in vibrant and creative ways!
As always, we look forward to your feedback.
Warm regards,
Cheryl White
Content
'Stories of the body: Incorporating the body into narrative practice' Eleni E. Karageorgiou. (Pages 1-7)
'Collective narrative practice with young people with Aspergers Syndrome who have experienced bullying' Kit Hung (Chris) Tse. (Pages 8-20)
'The restoration of contemplation and creative solitude' Josie McSkimming. (Pages 21-30)
'Two-way learning as respectful community practice: Honouring, co-creating and facilitating access to the knowledge stories of the Men of the Mimosa Creek Healing Centre' Troy Holland. (Pages 31-45)
'Expanding the landscape: Narrative practice in rehabilitation services for adults affected by intellectual disability in Hong Kong' Ocean Hung. (Pages 46-56)
'Narrating creativity: Developing an emic, first person approach to creativity research' Mandy Chilcott and Daved Barry. (Pages 57-67)
'Language Justice: Narrative therapy on the fringes of Colombian magical realism.' marcela polanco. (Pages 68-76)
'Weird and scary stuff': Diverse spiritual experiences about death in Australia' Steve Rose. (Pages 77-84)
'Narrative dream analysis? Towards a narrative therapy response to acknowledging people's responses in dreams' Ron Findlay. (Pages 85-90)
---