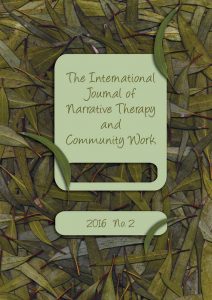 Dear Reader,
Welcome to the second issue for 2016!  It features papers from Canada, USA, Australia, New Zealand and Austria. These include creative contemporary uses of externalising conversations with children, adults facing fear, and men who have been violent to female partners.
We're also pleased to publish here:
– A narrative therapy paper that explores how collective considerations of moving from 'disorder' to political action can assist women who express concerns about eating and their bodies
– A rigorous and innovative new narrative methodology using the metaphor of the bicycle
– And one of the first papers in relation to narrative practice and gaming
It's another diverse collection. Delightfully, this is the first time we have published papers by any of the authors featured here. It is always exciting when new authors appear in the field.
Warmly
Cheryl White
Contents
'From 'disorder' to political action: Conversations that invite collective considerations to individual experiences of women who express concerns about eating and their bodies' Kristina J. Lainson. (Pages 1-16)
'Exploring the bicycle metaphor as a vehicle for rich story development: A collective narrative practice project' Marc F. Leger. (Pages 17-35)
'Divorcing the voice of fear: A collaborative, narrative approach to anxiety' Evalie Horner and Patrick Davey Tully. (Pages 37-43)
'Troublemaker Cards: Promoting the language of responsibility and prevention in men's domestic violence' Ryan Greenwell. (Pages 44-55)
'Playing and narrative therapy: Combining views from psychotherapy and occupational therapy in work with children' Christine Ullmann. (Pages 56-64)
'What's in a Game? Narrative therapy approaches with people who have relationships with gaming and online communities' Dale Andersen-Giberson. (Pages 65-75)