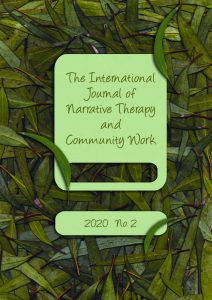 Editorial
Dear Reader,
This issue has been compiled in the midst of the COVID-19 pandemic. Wherever you may be we wish you and your communities the very best.
You will find here a number of pieces that relate to the pandemic – from Rwanda to the USA and elsewhere.
It begins with three pieces relating to Rwandan narrative therapy. The first, an interview with Adelite Mukamana, tells the extraordinary story of the Ibuka counselling team and how young survivors of the genocide supported other survivors throughout the country. The second, an interview with Chaste Uwihoreye, is entitled Broadcasting hope and local knowledge – during the pandemic lockdown in Rwanda. It describes how Chaste has conducted narrative therapy via television, radio and WhatsApp during lockdown. Jill Freedman also offers a reflection on lessons from Rwanda.
The second section of this journal issue focuses on Death care practices in the shadow of the pandemic: Can history help us? This comprises a thoughtful interview with Reverend Cody J. Sanders followed by reflections from Tileah Drahm-Butler, Mehmet Dinc, Shelja Sen, Marnie Sather, Li Ming & Lani Castan. It is a profound and moving collection from Christian, Muslim, Jewish, Taoist, non-theist, Aboriginal and Chinese philosophy perspectives. Also included in relation to responses to the pandemic, is an enchanting guidebook for parents by children: What to do at home during times of quarantine. This is the result of a collaboration between Turkish and Australian families.
The third section of the journal has a focus on poetic practice and research. It comprises of three pieces: Developing a thera-poetic practice: Writing rescued speech poetry as a literary therapy by Sarah Penwarden; Narrative therapy, poetics and poetry: Revisiting a workshop by Jill Freedman and Gene Combs; and The power to speak: Poetic re-presentation as an ethical aesthetic research practice for narrative therapists by Sarah Penwarden and Laurel Richardson.
This journal issue also includes two further practice papers: Integrating narrative practice into alcohol and other drugs counselling by Heidi Bosch and You can ask me: A guideline for parents and teachers to answer their questions on resilience and digital lives of young people by Mehmet Dinç.
With contributions from Rwanda, USA, Turkey, China, Australia, India and Aotearoa New Zealand, we hope you find this journal issue as moving and invigorating as we do.
Warmly,
Cheryl White
Contents
Survivors supporting survivors: Recalling the history of the Ibuka counselling team
An interview with Adelite Mukamana
Broadcasting hope and local knowledge – during the pandemic lockdown in Rwanda
An interview with Chaste Uwihoreye
Lessons from Rwanda: A Reflection
Jill Freedman
Death care practices in the shadow of the pandemic: Can history help us?
An interview with Reverend Cody J. Sanders
Reflections from Tileah Drahm-Butler, Mehmet Dinc, Shelja Sen, Marnie Sather, Li Ming & Lani Castan
What to do at home during times of quarantine: A guidebook for adults by children
Created by Dulwich Centre Foundation
Developing a thera-poetic practice: Writing rescued speech poetry as a literary therapy
Sarah Penwarden
Narrative therapy, poetics and poetry: Revisiting a workshop
Jill Freedman and Gene Combs
The power to speak: Poetic re-presentation as an ethical aesthetic research practice for narrative therapists
Sarah Penwarden and Laurel Richardson
Integrating narrative practice into alcohol and other drugs counselling
Heidi Bosch
You can ask me: A guideline for parents and teachers to answer their questions on resilience and digital lives of young people
Mehmet Dinç