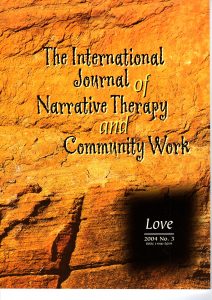 Dear Reader,
Welcome to this special issue on the theme of 'love'. It's been a real pleasure to put this edition together. Inspired by a paper by Elena Smith entitled: 'The narratives of love: Addressing the issue of love in a therapeutic context', this journal now consists of writings about considerations of love in therapy from Denmark, Hong Kong, Colombia, Mexico and Australia. These pieces are thoughtful, practice-based and wide-ranging. They consider the use of narrative practices in deconstructing jealousy; in working with male partners of women who have experienced childhood sexual abuse; and in examining and deconstructing how certain philosophies of love are influencing couple relationships. These pieces also consider how children respond to family tragedies; ways of assisting parents to reclaim their knowledge and pride in their children's differences; and how to assist therapists to respond to the confusion that some women who have been subject to childhood sexual abuse experience in relation to understandings of love. Also included here are discussions about ways of acknowledging and honouring lesbian and gay and other relations of love; and ways of using the written word to link migrants with their home communities. It is a diverse collection!
Even with such a diversity of papers, it is of course not possible to touch upon all of the myriad of ways in which considerations of love shape the practice of therapy and community work. If these writings evoke certain stories from your own life or practice we would be delighted to hear from you.
Part Two of this journal consists of the second instalment of a series of papers on narrative therapy and research. This collection consists of a moving piece of co-research with young people on 'suicidal thoughts'; explorations on the use of definitional ceremony as a research method; ways of decentring research practice; and considerations of ethics within research work. These papers are from authors from the UK, Australia and New Zealand.
Part Three consists of continuing correspondence in relation to feminism and transgender issues. Here, Joan Laird, from the USA, replies to a letter in the last issue of this journal by Arthemis Rodhanthy, from Belgium.
We also have an exciting announcement to make in this issue. Each week we receive emails, phone calls or faxes from narrative practitioners from different parts of Australia and around the world who are hoping to make connections with other people who are interested in narrative ideas in their city or state, or are seeking information about a narrative therapist elsewhere to whom they can refer someone they know. Up until now we have done the best we could with such requests in an informal manner, but it seems time to create a new process to link people together. This is what 'Narrative Connections: an international network of narrative practitioners' is going to be all about. We hope you will become a member! Please see page 69 for more information.
We trust you will enjoy this special issue of the International Journal of Narrative Therapy and Community Work on the theme of 'love'. We look forward to hearing your feedback!
Warm regards,
Cheryl White
Jane Hales
David Denborough
Virginia Leake
Dulwich Centre Publications.
---