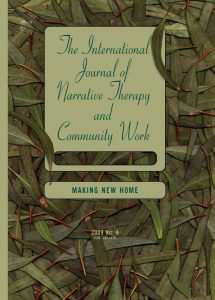 Dear Reader
As this year draws to a close we would like to thank all those who have contributed to the International Journal of Narrative Therapy and Community Work during 2009. This includes all the authors, reviewers, the editorial team, and, of course, those for whom this journal is produced. Thank you for your interest in narrative ideas.
This journal seeks to be a forum for the discussion, circulation and renewal of narrative therapy and community work practices. Over the course of this year, we've been delighted to publish papers from Australia, India, the UK, USA, the Palestinian Territories, Canada, Ireland, Singapore, and New Zealand. This issue also includes authors from Brazil and Colombia/USA. The 'community of ideas' that is engaged with narrative practice continues to grow. So too does the creativity and diversity of practice.
This issue includes another diverse collection of papers. In Part One, Ninetta Tavano describes a 'parent-teen conflict dissolution map' based on the work of Michael White. Janelle Dickson conveys how she used the Tree of Life methodology in rural Australia as a gateway to other maps of narrative practice. And Nikki Evans shares 'a mother's tale' of therapeutic story writing.
In Part Two, three papers explore ways in which people 'make new homes'. Katie Howells discusses the use of metaphors of home within her narrative therapy practice in Singapore. Michael Boucher recounts a narrative gathering which took place with refugees in New York State. And Viviane Oliveira describes how she has used the Team of Life and a range of other collective narrative practices with Brazilians living in Sydney.
In Part Three, Marcela Polanco and David Epston offer tales of travels across languages. This collaboration between an apprentice bilingual translator / narrative therapist and one of the originators of narrative therapy, describes how, as narrative ideas migrate cultures, these crossings can enrich, acculturate and diversify narrative practices. This is an exciting theme and in coming years we hope to publish more about this.
Thanks again for your interest in narrative ideas. If you have suggestions for future themes or articles, please let us know. We are delighted to publish creative work from practitioners who may not have written before. If you have a story from your work that you think may be of interest to others, but don't know how to go about publishing this, we would also be interested to hear from you.
Finally, it also seems to relevant to mention here that the International Journal of Narrative Therapy and Community Work is now to be listed in the distinguished SocINDEX with full-text worldwide database.
Wishing you well from all of us here at Dulwich Centre.
Warm regards,
Cheryl White
---