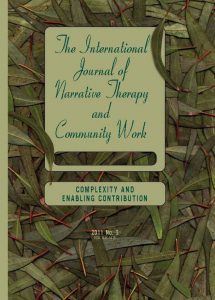 Dear reader,
Welcome to this journal issue that consists of four rigorous papers which seek to provide new challenge and complexity to the field of narrative practice.
The first paper, by Angel Yuen, is entitled History re-authored: Young men responding to anger, trouble, and hopelessness in urban schools. Stories of trouble, anger and despair have the ability to significantly diminish hope for male youth. However when young men's lives are linked together via narrative practices, stories of connection, optimism and social justice can emerge. This paper presents ideas for responding to events involving anger, rage, difficulties and hopelessness for male adolescents in urban schools. The paper provides practice-based narrative maps and illustrates ways of engaging in both individual and collective narrative practices.
The second paper, by David Denborough, is entitled Resonance, rich description and social-historical healing: the use of collective narrative practice in Srebrenica. Are there ways of engaging with histories, collective narrative documentation and definitional ceremonies that can contribute to social-historical healing? This paper describes the use of collective narrative practices to generate opportunities for resonance between the storylines of people from different sides of an historic conflict. By telling the story of a workshop that took place in Srebrenica, Bosnia, this piece introduces new concepts to the field of narrative practice and includes two collective narrative documents.
The third paper, Cultural equity: Bridging the complexity of social identities with therapeutic practices, by Rhea Almeida, Pilar Hernández-Wolfe & Carolyn Tubbs, proposes the construct of cultural equity to guide family and community therapeutic work. Cultural equity encompasses the multiplicity of personal, social, and institutional locations that frame identities in therapeutic practice by locating these complexities within a societal matrix that shapes relationships: power, privilege, and oppression. This paper illustrates the application of cultural equity in therapy and discusses implications for theory and practice.
And finally, Consulting your consultants, revisited, by David Marsten, David Epston and Lisa Johnson, questions the notion of children as hapless, biding their time, through a slow maturation process until they become useful adults. Instead the authors argue that young people can be instrumental in their own lives and this extends to addressing serious problems they may encounter. In addition, young people's knowledges can be useful to others. This paper offers a map for this practice in how to consult young people on behalf of others in need.
These four papers provide food for thought in relation to working with children, young people, adults and communities. As always, we will welcome your responses and feedback!
Warm regards,
Cheryl White
---