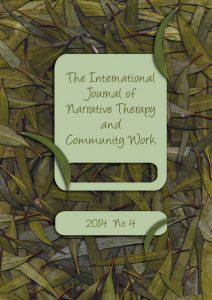 Dear Reader,
Welcome to the fourth issue of the International Journal of Narrative Therapy and Community Work for 2014.
It features three themes:
— Narrative responses to stigma and diagnosis;
— Narrative therapy with children and their loved ones;
— and two innovative insider knowledge projects.
We're delighted that a number of the papers are written by new authors!
We hope you enjoy this issue and look forward to hearing your feedback.
---
Showing all 5 results
Using narrative practices to respond to Stigma Stalker in the workplace: A journey with Joe— Sarah Ferguson

$

9.90

This article conceptualises modern power through the perspective of stigma and offers examples of how narrative practices can be utilised to respond to mental health stigma in a therapeutic context as well as in the broader workplace environment. This paper follows the story of Joe and describes how externalising practices enabled Joe to get to know Stigma Stalker, expose its tactics, and discover its effects on his life at home and at work and upon his identity. Re-authoring practices enabled the development of rich and thick descriptions of Joe's preferred identity. Documentation and outsider-witnessing practices were used to facilitate action within Joe's workplace to weaken Stigma Stalker, which enabled Joe to re-engage at work with the support of his colleagues, and contributed to cultural change in relation to stigma.

What to do when a diagnosis doesn't fit?— Amy Druker

$

9.90

This article will explore 'the politics of naming problems'. Who should have the right to name the problems that we face? I will share from my work with a 17 year old, K who, despite really wanting a diagnosis, determined that the one selected for her was not a fit, and how we went about re-writing the 'diagnosis' to one that she felt suited her much better. Narrative therapists are interested in the meaning a person makes of a diagnosis. What about the label fits or does not fit? These questions demonstrate our belief in a person's expertise about their lives. In the asking, we hand over the 'authority' to the person consulting us to decide if a label fits, and if it does not, to choose a name for the problem that does. 'Therapy' becomes a collaborative exploration, in which the person's expertise about their own life is sought and valued.

Seeking treasure beneath the ruins: Stories of narrative practice with children and their loved ones— Ross Hernandez

$

9.90

Children with multiple challenges such as emotional, behavioural, mental, social, developmental, and educational difficulties, often experience constant hardship in their daily lives. These problems also impact their parents or carers. This paper shares stories of narrative practice with children and their loved ones. These stories include the use of externalising conversations, photographs, and the audio recording of outsider-witness responses.

Resisting violences, reclaiming lives: Honouring the insider knowledges, initiatives and contributions of young people responding to intimate partner & family violence through film— Phillipa Johnson

$

9.90

This article recounts a collective narrative film methodology emerging from co-research with a group of young people at the Domestic Violence Action Centre in Ipswich, Queensland. This paper illustrates a process of using narrative practices and film in a community setting to discover, link, document, celebrate and inspire creative responses to violence. It represents a body of work that could not have been generated without the diverse contributions of many people and organisations.