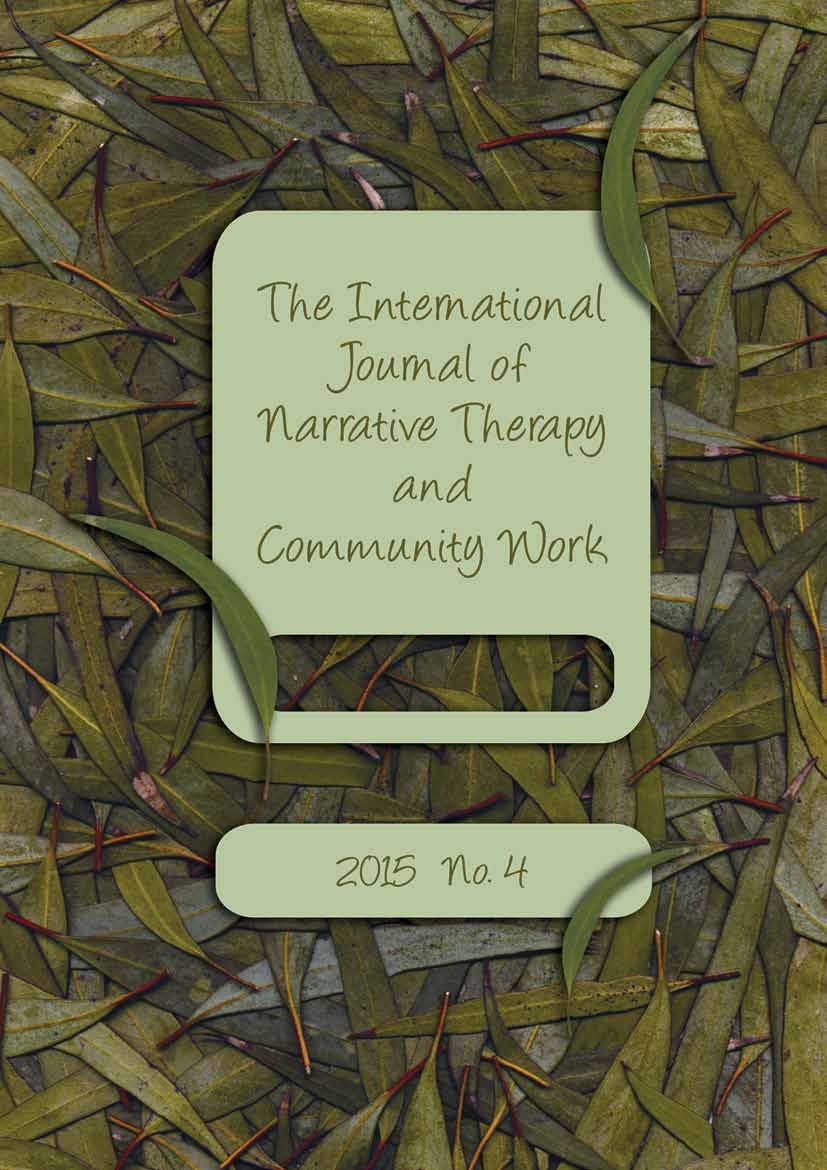 Dear Reader,
Welcome to the final issue for 2015!
This issue includes narrative practice papers from diverse contexts:
– Feminist school counselling
– Narrative therapy within a rural and remote mental health service
– Narrative documentation with people from refugee backgrounds
– Digital storytelling in a remote Australian Aboriginal community
It also includes an inspiring interview with young Aboriginal people who are involved in the Youth Advisory Committee of the Vancouver Aboriginal Child and Family Services Society. And a review of a Non-Monogamies and Contemporary Intimacies Conference that recently took place in Portugal.
We hope you enjoy this diverse collection!
Warmly
Cheryl White
Showing all 6 results
Exploring feminist narrative practice and ethics in a school setting— Carolyn Markey

$

9.90

This article recounts an example of working with a young female student who'd been referred for 'needing to build resilience' after being subjected to male peer abuse. The article explores ways of honouring the intent of the original referral, and broader family concern, while also broadening out the conversation from one of working with an individual young woman, to working with a group of young women students, to then engaging a group of young men in respectful conversations about abuse and harassment. In the process, the young men find ways of speaking about abusive actions they have taken, while the young women create a platform for taking broader cultural action on issues of gender and sexuality diversity in the school. Along the way, subtle dilemmas of feminist and narrative ethics are explored.

Re-contextualising conversations and rich story development— Chris Dolman

$

9.90

In contrast to more common understandings circulating in contemporary Western culture that de-contextualise the problems experienced by people and tether them to their bodies and beings, this paper describes a number of narrative practices that contribute to the rich description of the context in which problems emerge in a person's life. Therapeutic practices of double story development that provide a foundation for these re-contextualising conversations will also be described.

'My story to be told': Explorations in narrative documentation with people from refugee backgrounds— Chanelle Burns

$

9.90

This paper explores the use of narrative documentation in work with people from refugee backgrounds, specifically in contexts of responding to trauma. It recounts, through an in-depth case study, work with a man from Sierra Leone in which a number of documents were co-created, including letters, documents of skills and knowledge, and rescued speech poetry. Through the lens of narrative documentation, a number of narrative principles and practices are explored, including eliciting responses to trauma, scaffolding, externalising, re-authoring, and outsider-witnessing. This paper is the outcome of a project of co-research and offers insights into how the practice of narrative documentation might be used across language and culture.

The future is shifting: Aboriginal young people leading the way An interview with Alice Abou, Amber Abou, Cheyenne Andy & Josh Simpson

$

5.50

In this interview, members of the Youth Advisory Committee of the Vancouver Aboriginal Child and Family Services Society describe how this committee is enabling Aboriginal youth to have a voice not only in their own care, but also in the larger care system. The committee holds an annual youth conference, trains new foster parents, are consulted about policies, and advocate in the greater community for changes within the care system.

Review of the Non-Monogamies and Contemporary Intimacies Conference (NMCI) held in Portugal, 25th – 27th September 2015— Manja Visschedijk

$

5.50

A review of the first Non-Monogamies and Contemporary Intimacies (NMCI) conference held in Lisbon in September 2015. This conference brought together activists, artists, academics, therapists and other practitioners working in the field to explore the lived experiences of non-monogamies, especially those considered consensual; ideological and representational changes in how intimacies are thought of; intersections with race, sexgender, sexual orientation, kinship, kink, sex work, class, culture, religion, dis/ability, asexuality, a-romanticism; activism and community-building around non-monogamies; reproduction of normativities and resistances: polynormativity and relationship anarchy, neoliberalism and political contestation; evolution of scientific discourses on non-monogamies; challenges to counselling, psychotherapy, (public) health and legal frameworks around non-monogamies; the roles of mass media and new technologies around transformations of intimacy.