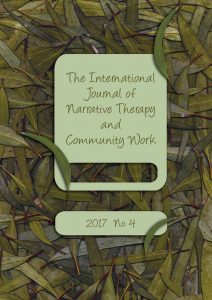 Dear Reader,
Welcome to the final issue of the journal for 2017. This is a collection of thoughtful and rigorous papers from diverse contexts.
The first two papers, 'Our story of suffering and surviving': Intergenerational double-story development with people from refugee backgrounds by Emma Preece Boyd and Narrative conversations alongside Interpreters: A locally-grown outsider-witnessing practice by Poh Lin Lee provide new options for narrative therapists responding to those who have sought refuge in new lands. These explorations seem particularly significant at this time of profound asylum crisis.
The next three papers demonstrate innovative narrative practice:
Phoebe Barton describes the way she has created a multi-textured narrative document to witness practices of resistance, resilience and kinship in childbirth. In The Mile Wide Project, Joel Glenn Wixson uses song and narrative practice to support people to take a stand against the invitations of suicide. Sabine Vermeire describes creative narrative therapy conversations that play with roles and positions in narrative conversations with children who have experienced trauma.
The final three papers offer significant challenges and opportunities to the field of narrative practice:
The Squid Group: Narrative practice peer worker support, supervision, superpowers, politics and more! shares key learnings and narrative ideas from a team of peer mental health workers (Andrew Chambers, Daniel Havey, Keryn Robelin, Jennifer Swan and Kristy Webb). Didgeri, individual therapeutic conversations and No More Silence, by Anthony Newcastle, describes a community project in which Aboriginal men are supporting each other and at the same time re-distributing social and emotional power outside professions or services. So you are accessing your file? You are not alone shares the knowledge of Leonie Sheedy, Vlad Selakovic and Frank Golding, three key members of Care Leavers Australasia Network, about what to expect if you access the file relating to life within children's homes.
The work described in each of these three pieces enables those with insider knowledge to transform the lives of others and at the same time to contribute to new directions for the field of narrative practice.
If you have comments or reflections on any of these papers, or others we have published during 2017, we would be delighted to hear from you.
Warmly,
Cheryl
---
Contents
''Our story of suffering and surviving': Intergenerational double-story development with people from refugee backgrounds' Emma Preece Boyd. (Pages 5-17)
'Narrative conversations alongside Interpreters: A locally-grown outsider-witnessing practice' Poh Lin Lee. (Pages 18-27)
'The Mile Wide Project: Taking a stand against the invitations of suicide' Joe Mageary and Joel Glenn Wixson. (Pages 28-35)
'Witnessing practices of resistance, resilience and kinship in childbirth: a collective narrative project' Phoebe Barton. (Pages 36-49)
'What if … I were a king? Playing with roles and positions in narrative conversations with children who have experienced trauma' Sabine Vermeire. (Pages 50-62)
'Didgeri, individual therapeutic conversations and No More Silence' Anthony Newcastle. (Pages 63-78)
'The Squid group: Narrative practice peer worker support, supervision, superpowers, politics and more!' From an interview with Andrew Chambers, Daniel Havey, Keryn Robelin, Jennifer Swan and Kristy Webb. (79-88)
'So you are accessing your file? You are not alone' Leonie Sheedy, Vlad Selakovic and Frank Golding, in conversation with David Denborough. (Pages 89-94)
---