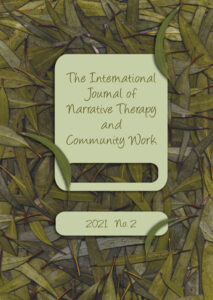 Dear reader,
This journal is being released while COVID-19 is ravaging India. Our thoughts are with all colleagues whose friends, families and communities are in the midst of crisis at this time.
The first paper included here is by Indian narrative practitioner, Maya Sen with Anwesha, who describe ways of responding to grief and loss in the context of COVID 19. It is followed by a moving message of solidarity from Rwandan colleagues.
The second paper is an anonymous Indian contribution sharing stories of collective resistance in the context of hardship and crisis. We hope this paper will offer encouragement to so many people who are engaged in grass roots actions at this harrowing time.
These two powerful pieces are followed by Mandida Sakutukwa's paper 'Strands of strength: Reflecting on Black identity' which explores the meaning of Black identity in the wake of the murder of George Floyd.
The second part of the journal consists of five papers relating to autism. We have been working on this collection for some time so are pleased to be able to share them with you now:
Re•Storying Autism: An interview with Patty Douglas and Carla Rice
And then three pieces by Courtney Olinger
Narrative practices and autism: Theory and engagement: Shedding ableism from therapy
Expanding on understandings of autism
Scaffolding of practice towards identity, advocacy and communities of support
And a paper by Indian narrative practitioner, Soumini Menon, 'Autism in corona times: Documenting mothers' insider knowledges'.
Finally, Terence Connellan describes an innovative project which reflects on the meanings of home through lived experiences of being without one. This paper offers readers an opportunity to see a city in a new way: by accompanying four people as they journey back to places where they had slept rough or found temporary shelter, and reflect on significant places and events. Through double listening and careful questioning, the author highlights their preferred identities, building on their own rich descriptions. Each person was invited to choose their preferred way of documenting their story.
We hope this issue will offer company and ideas during these strange times.
Warmly,
Cheryl White
Contents
Responding to grief and loss in the context of COVID 19: A story from India by Maya Sen with Anwesha
Stories of collective resistance in the context of hardship and crisis: An anonymous collective contribution from India during the pandemic crisis
Strands of strength: Reflecting on Black identity by Mandida Sakutukwa
Re•Storying Autism: An interview with Patty Douglas and Carla Rice Interviewed by David Denborough
Narrative practices and autism: Part 1: Theory and engagement: Shedding ableism from therapy by Courtney Olinger
Part 2: Expanding on understandings of autism by Courtney Olinger
Part 3: Scaffolding of practice towards identity, advocacy and communities of support by Courtney Olinger
Autism in corona times: Documenting mothers' insider knowledges by Soumini Menon
Talking and walking through home-less-ness by Terence Connellan