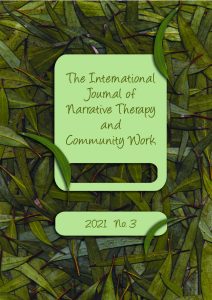 Dear Reader,
During these tumultuous pandemic times we continue to witness the dedication of friends and colleagues in different parts of the world as they seek to use narrative practices to respond to those facing diverse situations and hardships.
This journal issue showcases sparkling work from a great diversity of contexts.
To begin, you will find two creative papers from Australia. The first by Fariba Drokhshan Ahmadi honours stories of Afghan mothers newly arrived in Australia. The second by First Nations narrative practitioner Ian Maund, describes his innovative Soundtrack of Your Life methodology.
This publication also includes two papers by Chilean practitioners. One, by feminist practitioner Carla Galaz Souza explores dreamtelling in therapeutic conversations, and the other, by Nicolás Mosso Tupper, involves a narrative project with victims of police brutality. This is an issue of profound relevance here in Australia as is illustrated by continuing protests about the injustice of Aboriginal deaths in custody (and degradations with youth detention centres).
Two thoughtful projects from Canada are also described in these pages. Beck Paterson conveys ways in which they are nurturing narrative practice in an adolescent mental health program, and Kathryn Thompson describes the significance of using narrative declarations with women who are taking a stand against injustice.
Rob Jury, who is a narrative therapist and rabbi in the USA, then offers us a rigorous exploration of how Jewish metaphors can be engaged with in narrative practice with people resisting addiction, and Jill Freedman offers a response.
This issue concludes with a review by Tom Strong of the book 'Narrative psychology and Vygotsky in dialogue: Changing subjects, by Jill Bradbury'.
It's a diverse collection! We hope you find resonances and ideas that can be brought into your context, wherever that may be.
If you are also wanting to know more about ways narrative practitioners are responding to the pandemic, please see the Dulwich Centre website: https://dulwichcentre.com.au/narrative-responses-to-covid-19/
We wish good health to you and your communities.
Warmly,
Cheryl White
on behalf of the Dulwich Centre team
Contents
Journeys of faith, strength and persistence: Stories of new arrival Afghan mothers by Fariba Drokhshan Ahmadi
Using the Soundtrack of Your Life to engage with young people by Ian Maund
Dreamtelling: Making meaning from dreams using narrative practices by Carla Galaz Souza
From seeds to a forest: Nurturing narrative practice in an adolescent mental health program by Beck Paterson
Working with victims of police brutality: Conducting and documenting multistoried interviews by Nicolás Mosso Tupper
Using narrative declarations with women who are taking a stand against injustice by Kathryn Thompson
Jewish metaphors in narrative practice with people resisting addiction by Robert T. Jury
A response to 'Jewish metaphors in narrative practice with people resisting addiction by Jill Freedman
Book Review – Narrative psychology and Vygotsky in dialogue: Changing subjects by Jill Bradbury Reviewed by Tom Strong