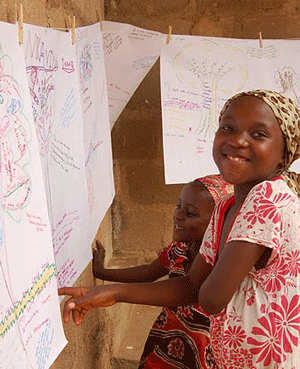 The Tree of Life methodology, developed by Ncazelo Ncube (REPSSI) and David Denborough (Dulwich Centre Foundation), has now been used in many countries around the world.
Over time, we will add stories and accounts from workers and communities in Nigeria who are using the Tree of Life to respond to various forms of trauma and hardship.
The Tree of Life in Gyero
The children at Gyero orphanage, situated on the outskirts of the city I currently live in, are often asked to 'tell their stories'. Their problem saturated stories are intriguing, tragic, and often illustrate aspects of a culture very different to that of the listener. No one lives in an orphanage without a story about how they came to need to be there …
The few children I was able to work with stood out to me as resilient, strong, creative and intelligent individuals. They all had memories of experiences and meaningful relationships left behind. I was frustrated that others weren't hearing the same stories …
Read more of Deborah Gill's reflections on running the Tree of Life, Climbing the Gyero tree here.
Click here to read the children's words, The Story of Strong and Resilient Trees and Children at Gyero.
Click here to read the caregivers' words, Caregivers rooted in love.