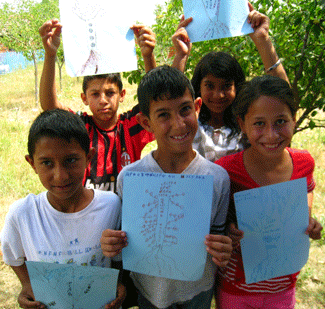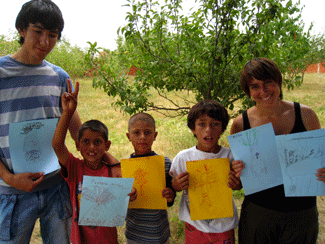 The Tree of Life methodology, developed by Ncazelo Ncube (REPSSI) and David Denborough (Dulwich Centre Foundation), has now been used in many countries around the world.
Over time, we will add stories and accounts from workers and communities in Kosovo who are using the Tree of Life to respond to various forms of trauma and hardship.
The Tree of Life comes to Balkan Sunflowers
Ruth Dorfman
I am currently volunteering at a Learning Centre run by an NGO called Balkan Sunflowers who have been working here for over a decade. The Learning Centre is in a village in Kosovo called Plemetina. Plemetina is a small Serbian enclave 12 km north of the capital Pristina and twenty percent of the community here is Roma. The Roma community here and throughout the country face many challenges: lack of education, employment opportunities, overwhelming discrimination, and poverty. The children are especially neglected in the public school system.
I led the children at the Learning Centre in the Tree of Life exercise.Throughout the activity I witnessed the children reflecting and thinking about themselves in a way that I was told was new for them. As I understand it, these children don't spend time thinking about themselves, what is important to them, their unique qualities, and their hopes and dreams. After the activity was completed many of the children's parents visited the Centre and had the opportunity to see the 'Forest of Trees'. The photos here show one of the groups with their Trees, and myself and the translator holding Trees of the children who were not able to be in the photo.
The feedback from the children and other facilitators at the Centre was that the exercise was an important step in fostering the children's self-confidence and awareness. For me, it was a really rewarding experience and enabled me to get to know the children I have been working with in a meaningful way. Importantly, the local facilitators are now familiar with this exercise and will be able to continue to lead and develop it with other children in the community.