The Tree of Life methodology, developed by Ncazelo Ncube (REPSSI) and David Denborough (Dulwich Centre Foundation), has now been used in many countries around the world.
Over time, we will add stories and accounts from workers and communities in Burma who are using the Tree of Life to respond to various forms of trauma and hardship.
To read more about the Tree of Life, click here...
Using the Tree of Life in the wake of a cyclone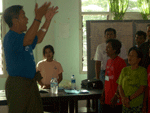 In 2008, Andrew Orenstein and four friends visited Burma soon after the cyclone which swept through the delta region in the south of Burma/Myanmar. The cyclone killed at least 150 000 people, was the worst natural disaster in Burma's history, and possibly the eighth deadliest cyclone of all time. Survivors had often lost family members, and were often left without shelter, food, and clean water.
Andrew and his companions ran training in the Tree of Life methodology for 60 participants from 35 villages in the delta region. A training manual was translated into Burmese, and given to every attendee. At the end of the two days' training, workshop participants said they would take the workshop back to their villages to run not only with children, but all village members.
To read Andrew's report of the training, click here…
To find out about training in the Tree of Life approach, click here…