We begin with the youngest voices – primary school students who have some fantastic ideas about ways of tackling problems and how not to fight with friends.
First let's hear from Aboriginal primary school students, followed by a message back to them from the Aboriginal AFL Academy at Port Adelaide Football Club.
And then watch a video about 'Trying not to fight with friends'.
---
Ninna Marni,
This is LeRoy, Tamzyn, Lakiesha, Isaac, Shakira, Kent, Allira, Jaliyah, Sophie and Tyrick. We are primary school students at Ocean View College. We're doing lots of stuff here. We're learning about Aboriginal culture. We're doing basketball and writing and drawing. Every week we score some goals. Last week the goals we scored included:
Drinking lots of water
Playing basketball
I cooked a pancake. And I also put sugar and lemon in the pan. Yum.
Some of us did good drawings
While we were talking we were also drawing. We are very good at drawing and talking at the same time. We're also quite good at all talking at the same time 🙂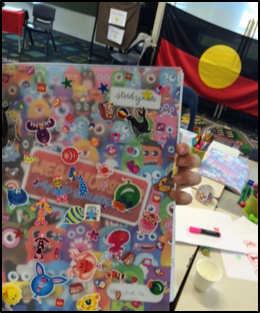 We talked about the things that children and young people sometimes face in our lives. Stuff like:
Arguments
People can slap kids
Fights
Heart attacks
Being sick, vomiting and diarrhoea (how do you spell that?)
Someone close to you can die
Broken bones
Bullying
Throwing things
Headaches
And in other places sometimes people don't have enough food
Sometimes armies come there
And burning stuff. Things can get burnt in fires.
While we were talking, a couple of us drew an Aboriginal flag.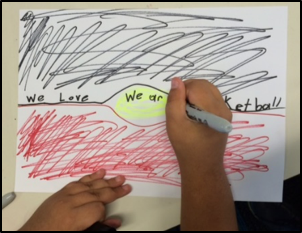 One of us said: 'I put the Aboriginal flag up every morning at school. That's my job while another girl is away.'What does the flag mean to you? 'Kindness and happiness.'
We also talked about how we deal with hard things in our lives, how we tackle problems. When tough things happen, like the things we talked about before, here are some of the things we do:
We listen to music we like, or paint, or create things
We tell someone we trust (a teacher, parent, friends or your dog)
We call 000 to get help or to get an ambulance
Some of us look at birds, the sun, the trees and flowers. It makes us feel better.
When our friends go through hard times, we stick up for them:
We give them a pillow and keep them warm
We share food with them
One of us said, 'Let orphans live with you'
And say, 'It will be okay. You are safe. You can live with me.'
If other people are mean to us, if there is bullying, we:
Say stop! I'm going to tell on you
If someone throws stuff at you, you can laugh and throw it back
And sometimes you can hide from enemies
We have some practical suggestions too:
Make sure you only put one ear phone in so you can still hear trains and other things
Use hand signs for people who can't hear or speak a different language
And one more thing. If someone dies you can say they can watch over you forever. They are some of our ideas for how to tackle problems. What do you do? Then we went outside and played basketball for a while.
We each have our own basketball! There were lots of goals scored and a couple of injuries. One of us had to get ice for her hand.
What do you do when you get injuries? What was your worst injury? Do you have to get in ice baths even when it is very cold? After we had finished on the courts, one of us said, 'My heart hurts' 'What would make it feel better'? 'Food'.
Luckily, that was just when we were about to eat together. So we did. I liked the cheese the best. After we had eaten, we talked about the goals we are going to try to score this week:
I'm going to try to be a star at drawing
I'm going to try to do good
When I grow up I can be a scientist
I'd like not to get hurt this week
I'm not going to be rude to other people
This week we are going to the movies
On Friday Peter Combe is coming to the school.
At the end of our group, we stood together on our reconciliation mat, put our hands in and chanted:
Strong! Smart! Deadly!
Respect … Listen … Observe … Care … Share and Protect
We hope you like our letter. And we hope you write back to us!
Nakkota
LeRoy, Tamzyn, Lakiesha, Isaac, Shakira, Kent, Allira, Jaliyah, Sophie and Tyrick
Ocean View College – Kids Talk (Basketball & Team of Life)
Kids Talk is a Connected Families UnitingCare Wesley program
We hope you enjoyed the letter!
---
Click here to read the reply from the Aboriginal AFL Academy at Port Adelaide Football Club
---
Part 10: primary school knowledge— trying not to fight with friends