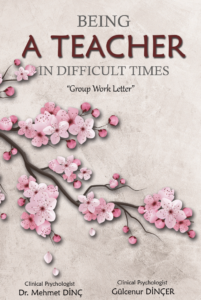 This document is the outcome of the group work sessions which took place on 1st, 4th, 8th and 11th December 2020, with the participation of ten teachers working for the Üsküdar District Directorate of National Education. The group work leaders are Mehmet Dinç and Gülcenur Dinçer.
Our primary objectives in our group work
To narrate the alternative stories of teachers in their lives during the pandemic,
To ensure that the problems they faced as teachers during the epidemic and the knowledge and skills they have used in this process are captured,
To reveal the skills and technique teachers successfully used to cope with the difficulties of this period, and to share them with other teachers (Denborough, 2018).
What did we do with our teachers?
In the first session, under the title of "Our Stories and Our Teaching", the participants introduced themselves, told stories about teaching and the meaning of teaching for them.
In the second session, they shared what they experienced during this period under the title of "Being a Teacher during an Epidemic" and the effects of the process both personally and professionally.
In the third session, they talked about what knowledge, skills, relationships and beliefs they used to support them to overcome their personal and professional difficulties in this period, under the heading "What We Experienced and What We Achieved so far".
In the fourth session, they evaluated the collective document prepared under the title of "What We Want to Share" to reflect the work done over the three weeks.
We faced difficulties due to the conditions but it was worth it.
---
Download the document here: